Middlesbrough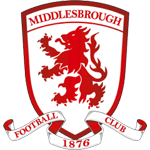 Middlesbrough Fans
Middlesbrough fans travelling to other grounds in Championship
Middlesbrough Information
Latest Middlesbrough News
26/03/2015 05:15 PM
Carlisle sign Atkinson and Monakana
Carlisle sign Middlesbrough defender David Atkinson and Brighton winger Jeffrey Monakana on loan until 2 May.
---
26/03/2015 05:01 PM
Brighton sign Boro winger Carayol
Middlesbrough winger Mustapha Carayol joins Brighton & Hove Albion on loan until the end of the season.
---
26/03/2015 04:49 PM
Triple loan swoop for Peterborough
Peterborough sign Bradford's Alan Sheehan, Leicester's James Pearson and Middlesbrough's Luke Williams on loan.
---
Middlesbrough Facts
Nobody has added any facts about Middlesbrough.
Know an interesting fact about Middlesbrough? Submit it here
Middlesbrough Links